You've got attendees signing up for your event but barely any of them are converting into leads – why is that? 
You could argue that there's nothing wrong with the event and that it's a conversion problem. But, the reality is that there are lots of different reasons at play. One of those reasons could be to do with your pre-event, live-event, or post-event process.
Maybe you're not getting in front of the right audience. Or perhaps there's a flaw in the event itself…
Event attendees are not the same as qualified leads. Just because you have people attending your event doesn't automatically mean that a percentage of them are going to convert into leads or paying customers. 
In this complete guide, we'll go through the steps you can take to host events that generate more leads.
What is Event Lead Generation?
Event lead generation is the process of identifying and capturing prospects in an event. These events include conferences, trade shows, product demonstrations, and more. 
Businesses use events as part of their marketing strategy to get in front of potential customers and promote their products, services, or ideas.
The purpose of event lead generation is to attract individuals who may be interested in what you have to offer and move those people along the sales funnel. However, converting attendees into customers usually requires various strategies and tactics such as email marketing. 
An event marketing strategy is often effective for B2C and B2B businesses to generate leads because it allows you to do a few things:
Build thought leadership 

Create a buying atmosphere 

Empathize with attendees 

Highlight how your product or service solves a specific problem

Create new relationships and nurture existing ones

Deliver a positive event experience that attendees can't forget
It Comes Down to Thought Leadership and Experiential Marketing
Events help businesses build thought leadership by sharing valuable insights with attendees and showing that you're well-connected with other industry leaders. 
Moreover, events are a form of experiential marketing because events are about creating a memorable experience for potential customers. Having a positive experience with your brand, product, or service leads to a few key benefits such as word of mouth. 
Both factors, thought leadership and experiential marketing, can help you grow your business by building trust with your audience. 
And building trust with your audience reduces the friction when it comes to generating leads. 
The Importance of Customer Research for Running Successful Events
Customer research is vital for identifying the best types of events to host for your business. It's also vital for tailoring your event content and presentations to meet the needs of your ideal customers. 
Without knowing your customer's goals and pain points, you're less likely to host an event that resonates with them and meets their needs. This ultimately leads to lower conversion rates. 
Here's a few questions to ask your customers to find out how to organize an event that creates leads for your business:
What event formats do you prefer in industry X?

What specific information, insights, or activities would you hope to see in an event?

What motivates you to attend an event? 

Which industry experts or influencers would you like to hear from?

How often would you be willing to join industry events? 

How do you typically discover and learn about industry events?
How to Host Events That Generate Leads for Your Business
Here are the 5 steps to generate leads through events:
Identify your target audience and what their needs are

Plan the right type of event

Have a pre-event marketing strategy to get attendees

Deliver the event content to create a memorable experience

Have a post-event marketing strategy to maximize conversions 
The first step is knowing who to get in front of and driving attendees to your event. Otherwise, there won't be anyone to convert into leads. From there, focus on giving value and engaging your audience. 
Now, the steps listed above are broad but we'll break down the process below. 
Pro tip: try using HeySummit to set up and promote your event so that everything is all in one spot!
The setup process might seem daunting since there are a lot of moving parts to take into account…
However, we've broken it down for our users at HeySummit into 6 parts: event setup, emails, content, revenue, reporting, and promoting. Refer to the screenshot below to see how it looks from the inside.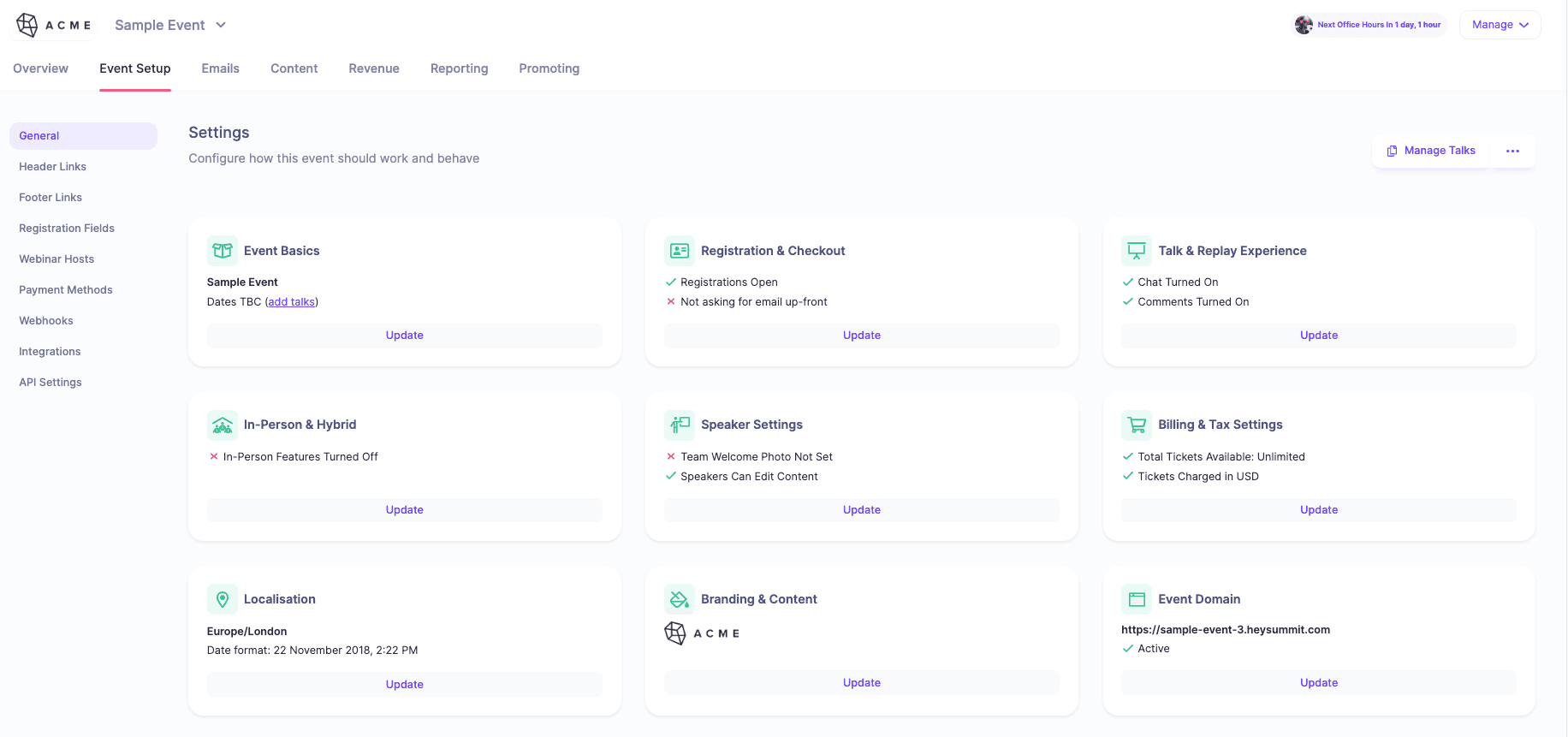 All you'd have to do is go through the steps provided under each tab. 
As you fill in event details, you'll set everything up including lead generation elements such as viral incentives, automated email sequences, optimized speaker profiles, event landing pages, and more. 
Part 1: Pre-Event
The pre-event phase is where you plan the event, organize speakers and sponsors, and drive attendee registrations. 
At this stage, the primary purpose of the event planning process is to generate leads by first attracting the right audience and converting them into confirmed attendees. This requires you to know who you're trying to reach, the right type of event to host, and building hype ahead of your event to increase attendance rates. 
Event Planning Process
Here's a few things to take into account when planning your event:
Identify your target audience and understand their interests, goals, and pain points

Choose the event type and event content you're going to cover based on your target audience's preferences

Prepare your script and how you're going to resonate with attendees (if you'll be speaking yourself) or reach out to potential speakers for your event

Consider potential event sponsors to reach a wider audience and reinforce your credibility

Determine the marketing channels you're going to use to promote your event, e.g. email and social media

Set event goals and objectives 

Consider lead capture methods such as registration forms and ticketing tiers

Consider how you're going to nurture your relationship with attendees, e.g. sending personalized emails

Do a few event practice runs to minimize the chances of any technical issues arising 

Craft a compelling offer and call to action that highlights the value of your product, service, or idea
Increasing Attendance Rates
Without having an audience, there's no one to convert into leads. Here's a few steps you can take to increase attendance rates:
Create an event landing page optimized for registrations

Create compelling speaker profiles and bios

Offer discounted tickets to incentivize potential attendees 

Promote compelling content and unique experiences 

Establish an event schedule that showcases key details and highlights the value of each talk

Set up an automated email sequence and SMS reminders 

Invite relevant keynote speakers, influencers, and sponsors to join the event to maximize audience exposure and entice people to register

Highlight networking opportunities
Part 2: Live-Event
The live-event stage is when you deliver the event content. Speakers, sponsors, and participants are now present at your event. This is where panel discussions, keynote speeches, and presentations occur. 
The primary purpose here is to create a positive attendee experience by engaging your audience. It's also a stage where you can generate leads live. 
We'll go through steps you can take to engage attendees and convert them into leads during your event.
Here's a few ways to enhance the attendee experience and boost audience engagement:
Ensure speakers and performers deliver relevant content that's valuable to attendees 

Use storytelling to resonate with attendees on a deeper level and highlight expertise by showing that you understand the specific problem they're trying to solve

Incorporate attendee engagement elements into your event such as Q&As, direct messaging features, and polls

During breaks or intermissions, offer an opportunity for attendees to converse with each other and with speakers 

Promote sponsors briefly to create a favorable impression of your brand and reinforce authority positioning

Use live streaming platforms such as Facebook Live to broadcast event activities and improve audience reach as well as the virtual experience 
Calls to Action
Share your offer to attendees, highlighting the value of your product or service and how it solves a specific problem

Deliver a compelling call to action that makes it clear what you want attendees to do, e.g. sign up for a product demo or book a call

Include a guarantee that addresses potential objections 
Part 3: Post-Event
The post-event stage is what happens after the event. To generate leads at this point, it's about following up with attendees. 
However, it's also important to gather feedback. This gives you the opportunity to assess the ROI of your event so that you'll know how to drive better results in future events. 
To be specific, let's look through the steps you can take here to maximize lead generation. 
Evaluation and Analysis
Analyze how your event performed to improve your future event marketing strategy. Here's a few steps to take:
Send surveys to collect feedback from attendees

Review attendee feedback 

Compile event metrics on attendance rates, revenue generated, expenses incurred, and other relevant data for future events
Content Distribution
The event timeline doesn't end when the event finishes. It ends once all post-event tasks are completed. That said, doing content distribution post-event is key to generating additional engagement and maximizing your lead generation strategy.
Here's a few examples:
Create recap videos for your website and relevant social media channels

Repurpose event content into social media posts, blog posts, and email newsletters

Re-use event content for future webinars and smaller-scale virtual events

Reach out to influencers, industry leaders, and relevant publications for potential collaboration to expand audience reach
Following Up
Follow up with everyone involved in the event such as attendees, partners, and sponsors. This is an opportunity to nurture relationships and increase lead generation. 
Follow up with attendees: thank-you emails as well as sharing relevant content, additional resources, or sending surveys and feedback forms. These are common ways to follow up with attendees. Promptly addressing any concerns also helps foster positive relationships and improves the chances of their return for future events. 

Targeted marketing campaigns: the post-event stage is an opportune time to convert event attendees into leads or potential customers by sending targeted campaigns, e.g. exclusive offers via email. 

Relationship building with partners and sponsors: strengthen relationships by expressing gratitude, sharing event impact reports, and discussing future collaboration opportunities. 
5 Best Types of Events to Host to Generate More Leads
Here are some common types of events to host to generate more leads: 
Each of these will help you convert attendees into leads or paying customers by creating a buying atmosphere as well as building trust and credibility. We'll go through these common event lead-generation examples below.
Conferences
A conference brings together a targeted group of people who share a common interest or belong to a specific industry or profession. Conferences typically include presentations, panel discussions, and attendee collaboration. 
Here's how a conference can help you generate leads:
Reach a specific audience that's interested in the products or services you offer 

Establish your business as a thought leader by showing you're well-connected to relevant influencers and industry experts 

Implement lead capture mechanisms to collect attendee information, e.g. registration forms and digital check-ins
Networking Events
A networking event is where people come together to have meaningful conversations and make new connections. This is a benefit that can encourage people to sign up for your event. 
You can either make networking a standalone event or an event activity. 
Offering networking opportunities also allows you to initiate discussions related to your product or service. It also allows you to identify opportunities for collaboration or partnerships.
Here's how networking events can help you generate leads:
Expand your professional network by bringing together a diverse group of professionals that could become valuable contacts

Build new relationships and rapport 

Establish credibility and expertise by demonstrating your knowledge

Strengthen existing relationships to reinforce trust and loyalty, which can lead to referrals or other business opportunities

Increase the chances of receiving referrals from satisfied clients, partners, or industry peers by providing an environment where attendees can actively share information and make recommendations
Online Training, Webinars, and Workshops
An online training or workshop event is facilitated by industry experts. The purpose is to educate attendees on a particular topic. This often involves presentations, discussions, and practical activities. 
Here's how this type of event increases lead generation:
Improve authority positioning and thought leadership by sharing educational content that's valuable to your audience

Nurture your relationship with attendees and move them along the sales funnel by personally engaging with them 

Collect relevant attendee information to follow up and send personalized emails
Product Launch Events
Product launch events are where businesses showcase a new product or service. Businesses do this to create buzz and raise awareness of their new offering to stakeholders. Compared to the other events listed, this is more direct when it comes to selling a product or service to your audience and generating leads. 
Here's how product launch events boost lead generation:
Build hype around your new product or service to increase brand awareness, demand, and interest 

Create a buying atmosphere to motivate potential customers to express interest and explore the product further

Highlight unique features and benefits through presentations, demonstrations, and interactive experiences 

Generate media coverage from journalists and industry influencers, resulting in publicity and website traffic

Directly engage with your target audience and establish a personal connection, leading to customer loyalty and future sales
Trade Shows
A trade show event is an exhibition where multiple businesses showcase a range of their products, services, and ideas to attendees. This type of event gives stakeholders from different companies an opportunity to connect with one another. 
Here's how trade show events increase lead generation:
Get in front of an audience that's looking to buy and actively searching for your specific product or service

Build credibility in a particular niche or industry by showing that you're well-connected with other businesses in the space

Increase brand visibility and exposure

Get insight into the latest trends, competitor offerings, and customer preferences 
7 More Event Lead Generation Tips
Offer exclusive incentives to encourage people to sign up for your event

Implement a referral program for wider audience reach with minimal expenditure

Optimize your event website for search engines to increase organic traffic

Be an active member in relevant industry forums, groups, or communities to establish your event's presence and generate interest

Encourage event attendees to share their experiences on social media and provide them with branded hashtags to increase event visibility

Invite relevant influencers or industry experts to co-host and promote your event

Use an event management platform to set up and manage your event all in one place
Host More of the Right Types of Events
The right types of events to host are the ones that align with your ideal customer's interests, needs, and pain points. Just hosting the right events themselves will help you generate more leads. 
If one event brings 1,000 attendees but none convert into leads whereas another type of event brings 100 attendees but converts 10% into leads, prioritize the latter. 
Getting traffic to your event website is satisfying to see but the ultimate goal is to generate new leads and customers. Otherwise, the traffic isn't as meaningful since it's not actually helping you grow your business. 
Once you've identified the right type of events to host, optimize them using some of the strategies and steps discussed in this guide.